Stanley & the Candy Cane Wormhole! Book

Triple Award Winner!
The Mom's Choice Awards® has named "Find Stanley The Christmas Treasurehunt Game" and "Stanley & the Candy Cane Wormhole" among the best in family-friendly media, products and services!   We've been awarded their highest honor, which is the Gold MCA seal.   
The PenCraft Awards® has named "Stanley & the Candy Cane Wormhole" among their 2023 Best in Children's Preschool Books for Literary Excellence!  We're grateful to be a part of this wonderful cohort.   
Maker Faire Orlando has named "Find Stanley The Christmas Treasurehunt Game" and "Stanley & the Candy Cane Wormhole"  among their 2023 Makers of Merit! Maker Faire event organizers give Maker of Merit Awards to those Makers who uphold or embody the spirit of this family event in some special or novel way.  Stanley's book is family friendly and promotes STEM.
Meet Stanley, Santa's New Delivery Guy!
Meet Stanley, a shy little snow squirrel at the North Pole who triggers an experimental wormhole, sending gifts from Santa's bag around the world. Stanley jumps in to save them. In his hunt, Stanley goes undersea, rides a roller coaster, escapes a volcano, & even lands on Mars! In each of seven places, Stanley uses a value to overcome a challenge & retrieve a gift.  The seven values are: 
Problem solving
Thankfulness
Healthiness
Helpfulness
Patience
Bravery
Giving
 After Stanley saves the lost items, Santa invites him & the Science Elves to use these wonky wormholes to help deliver gifts. Now Stanley can help Santa and the reindeer deliver gifts this year! 
Jumpstart your Christmas traditions each year with this value-driven holiday story. Then build your own Candy Cane Wormhole using easy instructions on the last page. This child-friendly food craft makes a delicious treat, needs no baking, and helps Santa deliver gifts to you in a squirrelly new way!
If you want a novel, festive read that'll deliver a load of merry fun, Stanley & the Candy Cane Wormhole is a must-have!! Over 300 families agree!
What Parents Are Saying:
"Our family shared a fun afternoon reading Stanley's story and making the yummy candy cane worm holes. The treasure hunt filled our home with giggles!"
"My children enjoyed reading a book that was not like any other Christmas books they've read. The candy craft was great and treats were eaten quickly."
"Give your family the gift of a new Christmas tradition that supports being thankful, helpful, and patient!"
"Hearing my two-year-old repeat the words "patient," "helpful," and "giving," was an unexpected joy out of this wonderful story. We enjoyed placing Stanley's wormhole under our tree on Christmas Eve."
"Here is a Christmas tradition I can get behind! Stanley reinforces values we try to instill in our kids, and all 4 of them from the youngest to oldest had so much fun! Definitely a new family tradition."
"Such a refreshingly different story for Christmas.  It's about time for something new!"
"Lots of fun!  My LO was always eager to see if Stanley came to visit.  She tells her friends and family about the wormhole."
"This is a fun addition to your Christmas traditions!"
"That was really fun!"
"The kids really enjoyed the game!"
"A great holiday activity that gets your kids in the spirit!"
"Stanley and the Candy Cane Wormhole is fun way to engage your kids in December, leading up to Christmas. Stanley encourages your kids to focus on positive attributes, such as helpfulness and thankfulness."
"Its a well thought out way to encourage positive behaviors" 
"A fun new holiday adventure to enjoy with your children."
"Positively reinforces positive behavior"
"Stanley brings fun, character-building activities for the holiday season!"
"Stanley helps kids and parents talk about habits we  want to instill in them, in a fun and creative way." 
"You will not regret sampling Stanley and the Candy Cane Wormhole. It is a fun experience for the whole family!" 
Have a Listen!
Here's a full reading by the author, complete with a soundtrack and campy voice sound effects, so you can feel the spirit of the story.
A Modern Story
Christmas still uses chimneys, when many children never have one.  Santa has gone from serving hundreds to billions of children.   Wormholes solve both problems!  And in an age of SciFi and Amazon, it makes sense that we upgrade Santa's shipping to instant delivery from a big warehouse with large teams of Science Elves and Snow Squirrels.  
An Inclusive Adventure
If you enjoy books that show our children that inclusion should just be a given, grab your copy of Stanley and share it with your little ones.  - Chris
Stanley and the Candy Cane Wormhole has a variety of ethnicities, genders, body types, and medical differences, so that more kids can see themselves in the adventure. The science elves in the book are also diverse in appearance. You never see Santa's skin tone color, so that children of every color can imagine their favorite Santa while staying immersed in Stanley's story. 
Stanley is a Proud Member of SCBWI Florida:
 
Some Other Neat Info:
Stanley's story is great for ages 2+
32 pages, all fully water colored
The book is full of literary techniques (like alliterations, onomatopoeias, etc.) and brightly bolded words to encourage reading out loud in your home and in your classroom.
Use the fun recipe in the back to build your own wormhole to help Stanley find your home!  No chimney required!
More Photos:
See more photos on the product details page.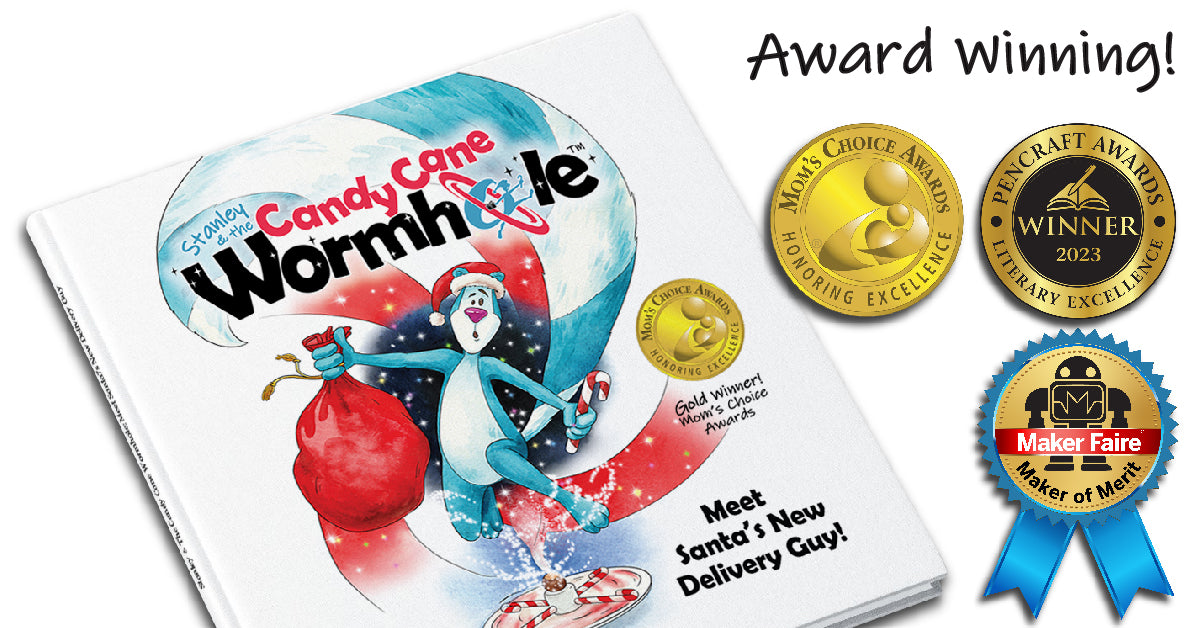 Stanley & the Candy Cane Wormhole Book
Regular price
$14.95 USD
Sale price
$14.95 USD
Unit price
per
Sale
Sold out
Share
View full details