Find Stanley - The Christmas Treasurehunt Game!
Do You Want to Delight Your Kiddos Like These little Guys?  Then Read On!
I'm Stanley, Santa's New Delivery Guy!
I jump through candy cane wormholes (special doorways to your house) to bring you Christmas gifts!  Unwrap the joy this holiday season with me and my "Find Stanley - The Christmas Treasurehunt Game"! I'm a cuddly plush doll about 7 inches tall, and I come with a soft fluffy tail and a Santa bag for your treasure hunt. Get ready for some festive fun - 'cause it's the most wonderful time of the year!
Did You Say Treasure Hunt?!
YES! My wormholes are wonky, so I get lost in your home!  Find me with treasure hunt clues.  My Santa bag has 63 Clue cards!  Clues have challenges & riddles to find the next clue. Each card helps us practice:
Problem solving
Thankfulness
Healthiness
Helpfulness
Patience
Bravery
Giving
I have picture clues for those who can't read!  Below are some examples of the riddle and picture clues! 
How It Works
Adults use the clue cards above to set up a high energy treasure hunt around your home.  Clue cards lead your kiddos to your early gift, a stocking stuffer, a candy treat, fruit, or a favor you'll do for your kiddos. Whatever treasure you pick, the kiddos will have a blast solving riddles to figure out the next hiding place. The deck has challenges like giving someone a hug, telling a knock knock joke, telling how they solved a problem, etc. Each time kiddos overcome a challenge, they strengthen Stanley's ability to deliver gifts to your home without them ending up in the laundry hamper.  Kiddos often ask to use the deck to set up their own treasure hunts to play again and again!  
Details on the Deck:
63 Card Game Deck + instruction cards
Each clue has a riddle leading to the next one
Challenges on 7 Values to stabilize the wormhole
Picture Clues for those who can't read
Blank Clues and Challenges you can use to create your own 
The treasure is an early gift chosen by the parent

 

(not supplied in this game)

 
Here's a Walkthrough of the Game (before we added the plush):
Parents Are Saying: 
Stanley and his modern tradition has been adopted by over 300 families. If you like buying products that have already been "Kid Tested, and Mother Approved", join the rest of our families who love Find Stanley!
"Our family shared a fun afternoon reading Stanley's story and making the yummy candy cane worm holes. The treasure hunt filled our home with giggles!"
"Great fun, looking forward to creating a new family tradition with Stanley!"
"My 4-year-old LOVES these scavenger hunts and asks for them over and over again.  He was enthralled by the book and had a blast with the wormhole craft!"
"My children enjoyed reading a book that was not like any other Christmas books they've read. The candy craft was great and treats were eaten quickly."
"Give your family the gift of a new Christmas tradition that supports being thankful, helpful, and patient!"
"Hearing my two-year-old repeat the words "patient," "helpful," and "giving," was an unexpected joy out of this wonderful story. We enjoyed placing Stanley's wormhole under our tree on Christmas Eve."
"Great fun activity for the little ones! The design is well done and seeing images instantly excited my kiddos to complete the game." 
"Here is a Christmas tradition I can get behind! Stanley reinforces values we try to instill in our kids, and all 4 of them from the youngest to oldest had so much fun! Definitely a new family tradition."
"Such a refreshingly different story for Christmas.  It's about time for something new!"
"A fun way to get into the Christmas spirit that isn't overwhelming."
"Lots of fun!  My LO was always eager to see if Stanley came to visit.  She tells her friends and family about the wormhole."
"This is a fun edition to your Christmas traditions!"
"The kids loved the magic and adventure of the book, the hands on creation of the craft, and the excitement and puzzle of the gift hunt.
I used the gift hunt as a party game with extended family and even the kids up to age 13 enjoyed running around the house and figuring out the clues. The whole group played along with the challenges from ages 2-13!
"I was surprised at how much fun such a simple game could give my kids"
"That was really fun!"
"The kids really enjoyed the game!"
"My kids love treasure hunts, but they are so much work/time to plan. This deck made it really easy, and my kids were eager to plan hunts for me and each other as well. Great rainy day activity!"
"This was a really easy and fun activity for me to set up for the kids.  They LOVED it and made being stuck inside a lot more enjoyable!"
"Taking one of those ideas from Pinterest that you know you'll never get around to doing and making it happen." 
"All of my kids loved this game.  Hunting for actual candy/prize had even the older kids enjoying it"
"Card games provided something tangible that is sometimes missed In a digital experience"
"My kids really enjoyed the scavenger hunt! It was a rainy day which made it a fun activity to do and kept them off of electronics! Definitely recommend it! So fun! "
"A great holiday activity that gets your kids in the spirit!"
"Stanley and the Candy Cane Wormhole is fun way to engage your kids in December, leading up to Christmas. Stanley encourages your kids to focus on positive attributes, such as helpfulness and thankfulness."
"Its a well thought out way to encourage positive behaviors" 
"This was a great and fun tradition with valuable education and character building. We thoroughly enjoyed it as a family." 
"An adorable snow squirrel lead our kids in a series of short, cooperative challenges to fix our homemade wormholes! Upon completion, a small gift was left for our family! Ours was fixed within a week, but it can last as long or as short as works for your family! A fun tradition that doesn't add to the stress of the season-it truly enhances it!" I think it is a fun tradition. It combines an entertaining story with the type of craft my son really enjoys making. It is also a low stress and easy activity to do during the holidays to keep the magic of Christmas alive."
"A fun new holiday adventure to enjoy with your children."
"Positively reinforces positive behavior"
"Stanley brings fun, character-building activities for the holiday season!"
"Stanley helps kids and parents talk about habits we  want to instill in them, in a fun and creative way." 
"You will not regret sampling Stanley and the Candy Cane Wormhole. It is a fun experience for the whole family!" 
Stanley is a Proud Member of ASTRA: 
Some Other Neat Info:
Ages 3+
15-30min game play time
1 to many players
Safety: Complies with ASTM F963-17 and CSPC requirements.
More Photos:
See more photos on the product details page.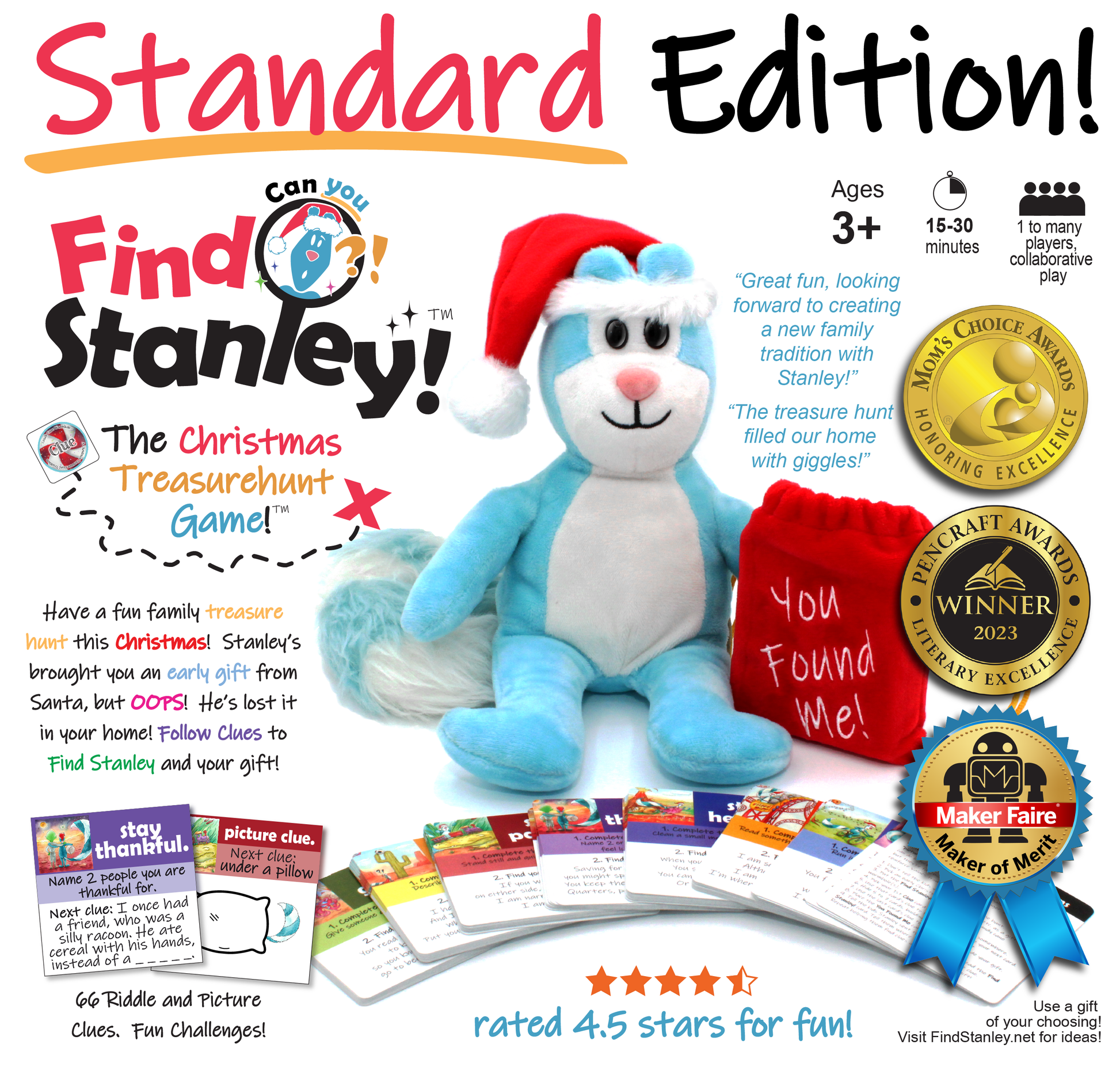 Find Stanley - The Christmas Treasurehunt Game!
Regular price
$24.95 USD
Sale price
$24.95 USD
Unit price
per
Sale
Sold out
Share
View full details